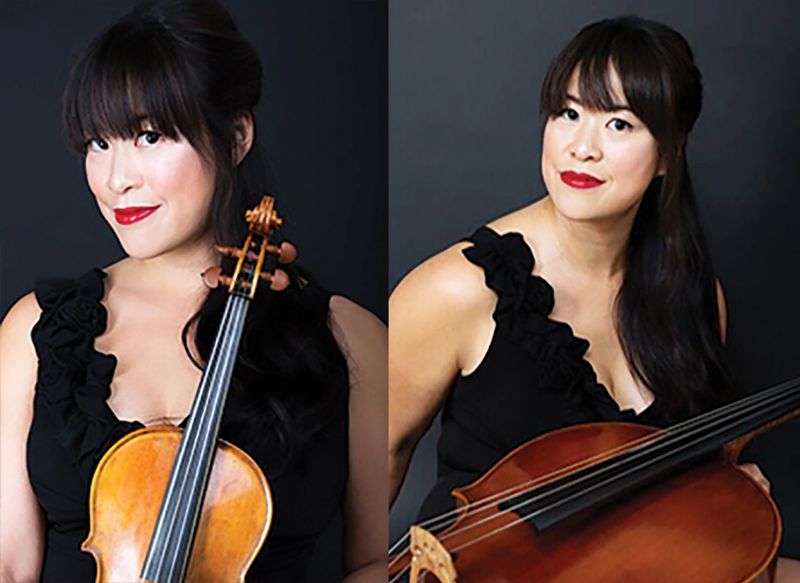 Teacher Nancy Kuo; teaches violin, viola, cello and piano/keyboard
Available to teach Mondays, Tuesdays, Wednesdays, and Sundays in Atwater Village

"Nancy is the proud owner and head instructor of Leggy Fish Music Lessons since 2008. She first studied violin at the age of 6 with Chelain Stevenson from the Phoenix Symphony, studied with various studio teachers, eventually studying with Dr. Phyllis Skoldberg at Arizona State University in her formative childhood years (who studied with the great pedagogue Ivan Galamian). She also started studying viola and started to play the beautiful instrument at the age of 15 and played it in orchestras, often doubling when needed. She also participated in music festivals like Brevard and Tanglewood and studied with Dr. William Tewilliger from the University of South Carolina and Laura Park from the Boston Symphony before receiving a full orchestra scholarship to Arizona State University. She studied classical violin performance there with the late Dr. Frank Spinosa and also studied piano before transferring to Berklee College of Music where she studied jazz and improv music while earning her bachelor's degree in music business. She studied the cello and have played it in several recording sessions and bands. "It's been an incredible journey for me, touring with bands, playing in orchestras, and collaborating with the most amazing talent  in every place I was lucky to live in; Arizona, New York, Massachusetts, and California....which has been my home for the last 10 years! I love sharing my experiences and teaching my students everything I've learned and continue to learn." Nancy has over 25 years of private teaching experience as a private contractor at many music schools, conservatories, and private studios including the Silverlake Conservatory, the Bloom School of Music, La Canada School of Music, The Joe Ferrante Music Academy and the Green Brooms School of Music to name a few. She also taught in private and public schools including Saint Ignatius Loyola School and with the Midori & Friends program in New York City. She is also an active member of the American String Teachers Association. Nancy is an in-demand classically trained and improvising violinist, violist, and cellist originally from the Wild West. With over 30 years of professional performing experience, she is an active Los Angeles-based session musician, live performing artist, and sought after teacher. Nancy has toured the country with off Broadway musical 'Titanic' the San Francisco gypsy jazz group, 'The George Cole Quintet' and has collaborated with a myriad of talented artists for session work and live performances which include legends: Courtney Love Cobain, Linda Perry (Four Non Blondes), H.E.R., James Williamson (Iggy and the Stooges), Jello Biafra (The Dead Kennedeys), Alison Mosshart (The Kills), Roger Rocha (Four Non Blondes), That Dog, Ceci Bastida, Hellogoodbye, Guster, The Dears (Murray Lightburn), Kishibashi, Islands (also with Richard Reed Parry from Arcade Fire)...and many other artists. Well versed in a multitude of genres, Nancy performs the CMG Orchestra, with jazz, pop, indie rock and world-fusion groups, is seen performing violin on celebrity wedding specials for the TLC network and plays regularly for film, sound tracks, musical theater and bands in Los Angeles. She is a member of American Society of Composers, Authors, and Publishers, the American String Teacher's Association, and is a proud violin artist endorsee of L.R. Baggs DI and pickups, and cello artist endorsee of Shadow Electronics. Notable television and film work includes recording violin and viola for music on a promo with the CMG orchestra for the 2019 Super Bowl, the newest Sims videogame (2017), and violin, viola, and cello for Netflick's Original Series "Chef's Table" (2014), recording violin for CW Network's 'Hart of Dixie' (2012), performing with Robbie Williams in "Go Gently" (2013), recording violin for the feature film, Planet World, and composing/performing original incidental music for the film debuting at Slamdance, "Holiday Road" (2011). When she is not performing, arranging, composing, or teaching with her boutique lesson studio, Leggy Fish Music Lessons, she is lending her talents to commercial work and has worked on commercials that include Facebook, LA Music Center, and nationally syndicated commercials for Fruit of the Loom, Hewlett Packard, WEtv, and BainUltra."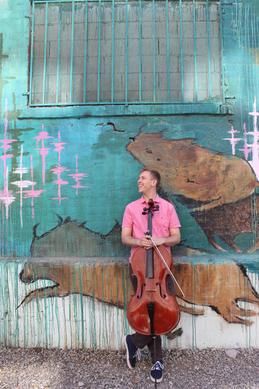 Teacher David Mason; teaches cello
Available to teach in-home lessons on the Westside on Mondays, Tuesdays, Wednesdays, Thursdays, Fridays, Saturdays, and Sundays.

"David Mason is an LA based freelance cellist.  Versed in many styles of music, David especially enjoys playing new works and collaborating with composers.  David is in highest demand as a chamber and orchestral musician and is a member of several professional level string quartets in L.A. and Santa Barbara.  He can be seen on the television series Hells Kitchen, The Amazing Race, and Millionaire Matchmaker. As a student, David performed with American Youth Symphony, attended local summer festivals, won the California Lutheran University concerto competition in 2012, and had the opportunity to do an orchestra tour through southern Spain in 2013. While achieving his Master's degree in Cello Performance at California Institute of the Arts (2014-2016), he supported himself with various freelance gigs of all styles in the LA area, becoming known as a very versatile performer. Professionally, David has worked with composers such as David Newman, Jeff Russo, Gerard Schurmann, Wolfgang von Schweinitz, Michael Skloff, Jae Deal, John Biggs, and many others in the film, experimental, and pop music industries. In early 2017, David was fortunate enough to perform with members of the captivating LA-based Calder, Lyris, and Formalist quartets.  They worked together with Monday Evening Concert Series' artistic director Jonathan Hepfer to recreate and perform a transcription of Julius Eastman's 10 cello piece entitled "The Holy Presence of Joan d'Arc".  A one-of-a-kind piece, it has been described as "Gripping... hardcore, process-oriented Minimalism" by the LA times.Recruited for his professionalism and attention to detail, David was hired by singer/songwriter AJ Mitchell and his production team to arrange, perform, and contract for a string quartet cover of "Say you Won't Let Go" by James Arthur.  The music video now has over 500,000 hits on Youtube. As a soloist, David has been featured in the soundtrack for the documentary film "With Great Power: The Stan Lee Story" which was recorded at Capitol Records in Los Angeles.  He is a regular soloist of the "Lamb of God" concert series in Ventura County hosted by Witness Music. Composed by Rob Gardner, this is a contemporary, neo-romantic depiction of Jesus' life, performed each year around Easter. David has performed with artists such as Burt Bacharach and the Corona Pops Orchestra, Michael W. Smith, and Vinnie Ferra at The Roxy in Hollywood.  David has performed with the experimental music ensemble The Dog Star Orchestra that prides itself in "messily exceptional" (LA Times) contemporary art and sound events in LA.  David is also a section cellist of the Bakersfield Symphony Orchestra. David was selected to record three times at Capitol records for CalArts' Jazz CD project (2015 - Abby Lyons, 2016 - Michael Jarvey, 2017 - Molly Pease & Sarah Fylak).  He has recorded at EastWest Studios, The Bridge, Westlake Studios and many other recording studios in Los Angeles area. David has performed in Carnegie Hall, Royce Hall, Zipper Hall, the Fox Theatre in Riverside, ArtShareLA, Coaxial, The Echo, and the Roxy, to name a few."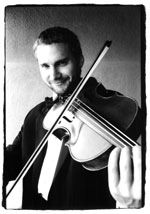 Teacher Matthew; teaches viola, violin and piano
Available to teach in-home lessons on the Westside on Mondays, Tuesdays, Wednesdays, Thursdays, Fridays, Saturdays, and Sundays.
"Matthew Witmer is the founder/viola player of the Mercury String Quartet. Born in Ft. Lauderdale, and a Philadelphia native, Matthew graduated from the Boston Conservatory with a bachelor's of music in viola performance, and began his master's studies at the New England Conservatory. Matthew studied with Patricia McCarty and Ed Gazouleas of the Boston Symphony and briefly with James Dunham. Relocated to Los Angeles in 2001, he has studied with Dale Hikawa Silverman, and currently studies wtih Jerry Epstein and Ray Tischer. Matthew is a member of the Dakah Hip Hop Orchestra, which has been invited to the New Orleans Jazz Festival and Playboy Jazz Festival at the Hollywood Bowl. Other orchestras he has played with include: the Wild Ginger Philharmonic, Burbank Philharmonic Orchestra, Desert Symphony, AYS and Debut Orchestras. Matthew has also attended the Henry Mancini Institute in 2005. He has performed at such venues as: Boston Symphony Hall, NEC's Jordan Hall, Walt Disney Concert Hall, Dorothy Chandler Pavilion, Zipper Hall, UCLA Royce and Schoenberg Halls, USC's Bovard Auditorium, Skirball Cultural Center, Beverly Hilton Hotel, Las Vegas House of Blues, San Francisco Palace of Fine Arts, and California Plaza. He has shared the stage with such names as Tony Danza, Harrison Ford, Isaac Stern, Yefim Bronfman, Gil Shaham, John Novacek, and singers from the LA Opera. He has also played with names from the rock, hip-hop and jazz worlds including: Holly Palmer, Lili Haydn, Guru, John Tesh, and Diane Schurr. Matthew has worked with such distinguished conductors as John Williams, Gunther Schuller, Joseph Silverstein, Michael Tilson Thomas, James Newton Howard, Alan Silvestri, Alf Clausen, Kent Nagano, Doc Severinsen, Ronald Feldman, Joana Carneiro, and Frank Fetta. Matthew has also been featured in music videos and on film trailers."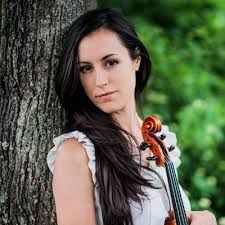 Teacher Sarah Tarablus; teaches violin, viola and piano
Available to teach in-home lessons on the Westside on Mondays, Tuesdays, Wednesdays, Thursdays, Fridays, Saturdays, and Sundays.
"Sarah Tarablus is from Perugia, Italy. She finished high school at Liceo Classico Annibale Mariotti in Perugia. After her studies she was accepted to the private Conservatory of Music in Fiesole, Florence, where she studied Viola. She was then accepted to study in Berlin, Germany at the UDK University of Arts where she completed her Bachelors degree. Apart from playing various concerts in Germany and France, she won a one-year contract in the Hof Symphony in Hof, Germany. After finishing her contract, she moved to Tel-Aviv, Israel to play in various orchestras, chamber music festivals, and to finish her Masters degree in Viola Performance at the Jerusalem Academy of Music. She has recently moved to Los Angeles in order to further her musical career and to explore the vibrant culture that the city has to offer. Her travels around the world have led her to be fluent in English, German, Spanish, and of course Italian."