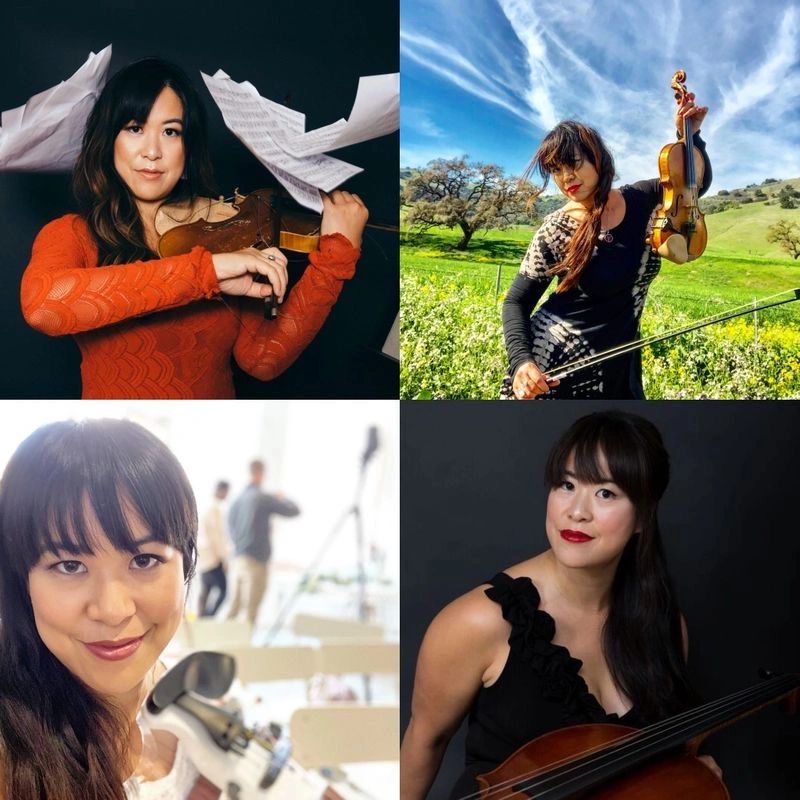 Teacher Nancy Kuo
Background Checked provided by SterlingBackcheck, the world's trusted background check leader.
Teaches violin, viola, cello and piano/keyboard
"Nancy has been the head instructor of Leggy Fish Music Lessons since 2008. She first studied violin at the age of 6 with Chelain Stevenson from the Phoenix Symphony, studied with various studio teachers, eventually studying with Dr. Phyllis Skoldberg at Arizona State University in her formative childhood years (who studied with the great pedagogue Ivan Galamian). She also started studying viola and started to play the beautiful instrument at the age of 15 and played it in orchestras, often doubling when needed. 
She also participated in music festivals like Brevard and Tanglewood and studied with Dr. William Tewilliger from the University of South Carolina and Laura Park from the Boston Symphony before receiving a full orchestra scholarship to Arizona State University. She studied classical violin performance there with the late Dr. Frank Spinosa and also studied piano before transferring to Berklee College of Music where she studied jazz and improv music while earning her bachelor's degree in music business. She studied the cello and have played it in several recording sessions and bands. 
"It's been an incredible journey for me, touring with bands, playing in orchestras, and collaborating with the most amazing talent  in every place I was lucky to live in; Arizona, New York, Massachusetts, and California....which has been my home for the last 10 years! I love sharing my experiences and teaching my students everything I've learned and continue to learn." 
Nancy has over 25 years of private teaching experience as a private contractor at many music schools, conservatories, and private studios including the Silverlake Conservatory, the Bloom School of Music, La Canada School of Music, The Joe Ferrante Music Academy and the Green Brooms School of Music to name a few. She also taught in private and public schools including Saint Ignatius Loyola School and with the Midori & Friends program in New York City. She is also an active member of the American String Teachers Association. 
Nancy is an in-demand classically trained and improvising violinist, violist, and cellist originally from the Wild West. With over 30 years of professional performing experience, she is an active Los Angeles-based session musician, live performing artist, and sought after teacher. Nancy has toured the country with off Broadway musical 'Titanic' the San Francisco gypsy jazz group, 'The George Cole Quintet' and has collaborated with a myriad of talented artists for session work and live performances which include legends: Courtney Love Cobain, Linda Perry (Four Non Blondes), H.E.R., James Williamson (Iggy and the Stooges), Jello Biafra (The Dead Kennedeys), Alison Mosshart (The Kills), Fall Out Boy, Roger Rocha (Four Non Blondes), That Dog, Ceci Bastida, Hellogoodbye, Guster, The Dears (Murray Lightburn), Kishibashi, Islands (also with Richard Reed Parry from Arcade Fire)...and many other artists. Well versed in a multitude of genres, Nancy performs the CMG Orchestra, with jazz, pop, indie rock and world-fusion groups, is seen performing violin on celebrity wedding specials for the TLC network and plays regularly for film, sound tracks, musical theater and bands in Los Angeles. 
She is a member of American Society of Composers, Authors, and Publishers, the American String Teacher's Association, and is a proud violin artist endorsee of L.R. Baggs DI and pickups, and cello artist endorsee of Shadow Electronics.