Music education is a key ingredient in a child's education and is a fun way for kids to achieve personal goals, work in teams, and develop self-esteem! If you're an adult learner, consider this: music has been shown to aid in memory functions, relieve stress, and lower blood pressure. playing music inspires creativity, increases productivity, and gives you a lifelong skill you can share with others. Top-rated boutique studio, Leggy Fish Music Lessons has been providing high quality private, duo, and group lessons for children 5 years+ and adults with 0 experience to advanced levels since 2008. we focus on technique, reading music, ear training, and improvisation...but most of all cultivating your creativity with lots of fun in a unique and relaxed environment. We teach violin (beginning to advanced), viola (beginning to advanced), cello (beginning), and keyboard (beginning) and styles: classical, jazz, rock, pop, world, improvisation, and fiddle. No other music lesson studio provides monthly "String Flings" where students have the opportunity to make friends, playing with and for one another without pressure. In addition to our String Flings, we offer 2 recitals a year, seasonal field trips, a yearly practice a thon, canned food drives, special $10 New Student Days, Bring-Your-Friend-To-Your-Lesson Day, practice rewards programs for the little ones, and much more! In addition, we also utilize a special online lesson logging system for students to keep track of assignments and ideas.​ 

Please read our school policy pages and make sure you understand policies prior to purchasing music lessons. Feel free to contact us at nancy@leggyfishmusiclessons.com. 
Meet Our Teachers!
Nancy Kuo: Violin, Viola, Cello, Keyboard Instructor: Nancy Kuo: Atwater Village Location

Nancy is an in-demand classically trained and improvising violinist, violist, and cellist originally from the Wild West. With over 30 years of professional performing experience on the violin, she is a graduate from Berklee College of Music, has toured the country with off Broadway musical 'Titanic' the San Francisco gypsy jazz group, 'The George Cole Quintet' and has collaborated with a myriad of talented artists which include rock legends, Courtney Love Cobain, That Dog,  Linda Perry (Four Non Blondes), Roger Rocha (Four Non Blondes), James Williamson (Iggy and the Stooges), Jello Biafra (The Dead Kennedeys), and Alison Mosshart (The Kills). She's also recorded and played with Latin songwriter, Ceci Bastida, played with indie pop rock favorites like Hellogoodbye, Guster, Kishibashi, and Islands (also with Richard Reed Parry from Arcade Fire), and local Los Angeles indie bands Moonhoney and Hello Goodbye just to name a few. Well versed in a multitude of genres, Nancy performs with jazz, pop, indie rock and world-fusion groups, is seen performing on celebrity wedding specials for the TLC network and plays regularly for film, sound tracks, musical theater and bands in Los Angeles. She is a member of American Society of Composers, Authors, and Publishers, the American String Teacher's Association, and is a proud violin artist endorsee of L.R. Baggs DI and pickups, cello artist endorsee of Shadow Electronics, and an endorsee of organic cotton clothing line, Peri Eco Rags. Notable television and film work includes recording violin and viola for music on the newest Sims videogame (2017), and violin, viola, and cello for Netflick's Original Series "Chef's Table" (2014), recording violin for CW Network's 'Hart of Dixie' (2012), performing with Robbie Williams in "Go Gently" (2013), recording violin for the feature film, Planet World, and composing/performing original incidental music for the film debuting at Slamdance, "Holiday Road" (2011). <Read more about Nancy and her teaching philosophies!
---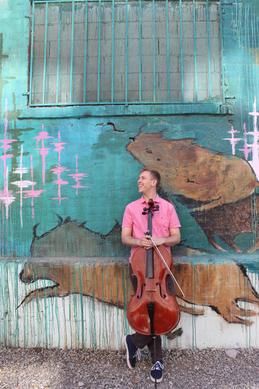 Cello Instructor: David Mason Teaches Cello: In-home music lessons 
While studying for his MFA at California Institute of the Arts, David had the opportunity to collaborate with dancers, composers, recording engineers, visual artists, sound projectionists, choreographers, animators, and many other artists of eccentric variance. This exposure to different styles of artists at Calarts was paramount to how David now approaches music. With David's background as a CalArts grad, he has the resources and knowledge to execute contemporary pieces that many other musicians of today, let alone cellists, would not have the facility to learn on their own. Technology, style, perspective and affect are all tools that David uses in his performances. David teaches cello for Leggy Fish Music Lessons.