Learn About Our Teaching Philosophy And Top Teachers In Los Angeles!
Leggy Fish Music Lessons' mission is to provide the highest quality boutique violin/viola/cello/keyboard/piano instruction in all genres for everyone, beginning through advanced levels conveniently in our Atwater Village studio and online.
News as of March 25, 2020:
As a reminder, all lessons purchased can be transferred to dollar amount credits towards in-person lessons if the quarantine is lifted or if you would like to continue taking lessons online. So if you purchase a online package of 4 hour long lessons for $219 and have used 2 out of 4 lessons...$109.50 (the value of 2 online 60 minute lessons) will be your credit towards in-person lessons. A unique promo code will be sent to you for the dollar amount taken off when you checkout if you make your purchase on our website. Or if purchasing via Venmo, purchase your next package with the dollar amount already taken out.
Music education is a key ingredient in a child's education and is a fun way for kids to achieve personal goals, work in teams, and develop self-esteem! 
If you're an adult learner, consider this: music has been shown to aid in memory functions, relieve stress, and lower blood pressure. Playing music inspires creativity, increases productivity, and gives you a lifelong skill you can share with others. 
Top-rated boutique studio, Leggy Fish Music Lessons has been providing high quality private, duo, and group lessons for children 5+ years and adults with 0 experience to advanced levels since 2008. We focus on technique, reading Music, earth training, and improvisation...but most of all cultivating your creativity with lots of fun in a unique and relaxed environment. We teach violin, viola, cello, and keyboard/piano and styles: classical, jazz, rock, pop, world, improvisation, and fiddle. 
No other music lesson studio provides monthly "String Flings" where students have the opportunity to make friends, playing with and for one another without pressure. In addition to our String Flings, we offer 2 recitals a year, seasonal field trips, a yearly Practice-A-Thon, canned food drives, special New Student Days, Bring-Your-Friend-To-Your-Lesson Day, Practice rewards programs for the little ones, and much more! 
In addition, we utilize a special online lesson logging system for students to keep track of assignments and ideas.
Each Leggy Fish Music Lessons teacher is unique, hand selected and matched with each student. They are dedicated to music education, have an ability to perform at a high level on the instrument they teach, and emphasize technique. They have superb communicative skills and have the strong ability to draw out creativity, inspiring their students and meeting them where they are at. Our teachers carry at least a Bachelor's Degree in music studies from a University and all carry the ability to teach various styles of music including classical, fiddle, jazz, rock, pop and world. 
Learning can be a daunting process for everyone, but we're into encouraging and helping you get through those obstacles. It's all about your complete musical experience. Triple emphasis on the word YOUR. Whether you're interested in classical music, jazz, rock, fiddle, composition or improv, we always find a way to help you value technique, precision, rhythm, beautiful tone, attention to dynamics and phrasing, personal style, knowledge of theory and history. We believe in reading music, but also believe in learning to play by ear. And we believe you need both for the violin, viola, cello, and keyboard.
Some of our students have excelled and include honor's placement and scholarships in the Los Angeles Youth Orchestra, the Pasadena Youth Orchestra, the Renaissance Arts Academy, Orange County School of the Arts, Berklee College of Music, the Colburn School of Music, The Children's Music Workshop, and the Sphinx Performance Academy at the Oberlin Conservatory. Our students have placed highly in ABRSM exams and have placed first in regional and state composition competitions like The Reflections Arts Recognition Program.
Students have come to us from all walks of life: children, actors, lawyers, filmmakers, doctors, marketers, sales people, engineers, PhD students, sports therapists, archaeologists, entertainment managers, yoga instructors, dog walkers, HR managers, accountants, information technologists, television editors, fitness trainers, entrepreneurs, and educators in other fields....for a variety of reasons. Some crave a bit of beauty in their busy lives. Some crave structure. Some crave discipline. Some feel they have missed out on learning a musical instrument as a child and interested in rekindling their youth. Some are recreating their youth and bringing back a sense of wonder from learning a musical instrument in their past. Some need an artistic outlet to express feelings they somehow can't express with words. Some just like the challenge. Some just want to have a bit of fun.
Could this be you?
From the joy of learning and growing to the pleasures of sharing music with others, our musicality is a gift to be nurtured throughout life. We take great joy in passing the gift of music on to our students. Please let us know  how we can help you.​ Look forward to speaking with you! Please read our studio policy pages and make sure you understand policies prior to purchasing music lessons. 
Feel free to contact us at nancy@leggyfishmusiclessons.com!

---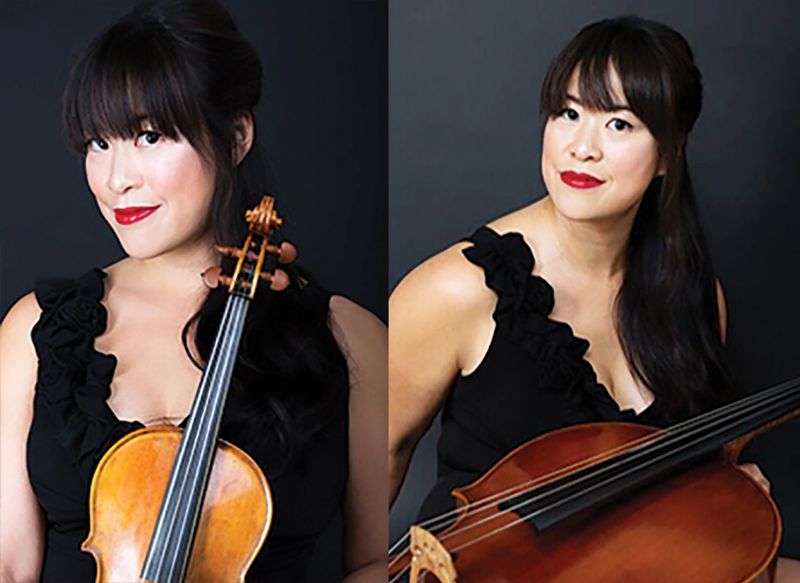 Teacher Nancy Kuo
Background Checked provided by SterlingBackcheck, the world's trusted background check leader.
Teaches violin, viola, cello and piano/keyboard
"Nancy has been the head instructor of Leggy Fish Music Lessons since 2008. She first studied violin at the age of 6 with Chelain Stevenson from the Phoenix Symphony, studied with various studio teachers, eventually studying with Dr. Phyllis Skoldberg at Arizona State University in her formative childhood years (who studied with the great pedagogue Ivan Galamian). She also started studying viola and started to play the beautiful instrument at the age of 15 and played it in orchestras, often doubling when needed. She also participated in music festivals like Brevard and Tanglewood and studied with Dr. William Tewilliger from the University of South Carolina and Laura Park from the Boston Symphony before receiving a full orchestra scholarship to Arizona State University. She studied classical violin performance there with the late Dr. Frank Spinosa and also studied piano before transferring to Berklee College of Music where she studied jazz and improv music while earning her bachelor's degree in music business. She studied the cello and have played it in several recording sessions and bands. "It's been an incredible journey for me, touring with bands, playing in orchestras, and collaborating with the most amazing talent  in every place I was lucky to live in; Arizona, New York, Massachusetts, and California....which has been my home for the last 10 years! I love sharing my experiences and teaching my students everything I've learned and continue to learn." Nancy has over 25 years of private teaching experience as a private contractor at many music schools, conservatories, and private studios including the Silverlake Conservatory, the Bloom School of Music, La Canada School of Music, The Joe Ferrante Music Academy and the Green Brooms School of Music to name a few. She also taught in private and public schools including Saint Ignatius Loyola School and with the Midori & Friends program in New York City. She is also an active member of the American String Teachers Association. Nancy is an in-demand classically trained and improvising violinist, violist, and cellist originally from the Wild West. With over 30 years of professional performing experience, she is an active Los Angeles-based session musician, live performing artist, and sought after teacher. Nancy has toured the country with off Broadway musical 'Titanic' the San Francisco gypsy jazz group, 'The George Cole Quintet' and has collaborated with a myriad of talented artists for session work and live performances which include legends: Courtney Love Cobain, Linda Perry (Four Non Blondes), H.E.R., James Williamson (Iggy and the Stooges), Jello Biafra (The Dead Kennedeys), Alison Mosshart (The Kills), Roger Rocha (Four Non Blondes), That Dog, Ceci Bastida, Hellogoodbye, Guster, The Dears (Murray Lightburn), Kishibashi, Islands (also with Richard Reed Parry from Arcade Fire)...and many other artists. Well versed in a multitude of genres, Nancy performs the CMG Orchestra, with jazz, pop, indie rock and world-fusion groups, is seen performing violin on celebrity wedding specials for the TLC network and plays regularly for film, sound tracks, musical theater and bands in Los Angeles. She is a member of American Society of Composers, Authors, and Publishers, the American String Teacher's Association, and is a proud violin artist endorsee of L.R. Baggs DI and pickups, and cello artist endorsee of Shadow Electronics.